Why the Laser?
Why Choose Laser Assisted Endodontics?
99.7% Decrease in bacterial counts in the root canal approaches sterilization
Bacteria counts 2.86 X lower than most effective conventional treatment
Decreases risk of re-infection
Effective on most resistant root canal bacteria – E. faecalis
Conserves tooth structure – Minimally invasive technique
2-3 minutes with laser for disinfection saves 20-30 min. over usual treatment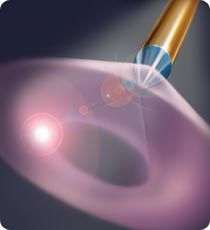 Waterlase root canal treatment reduces bacteria to levels approaching sterilization
Introducing the first FDA cleared laser treatment for improved root canal disinfection.
More than 15 million root canal procedures are performed every year. Using conventional methods, 4-6 percent of root canals fail, a relatively high rate for a dental procedure, causing patients to go through retreatment. In some cases, the tooth cannot be saved and time consuming and expensive restorations such as dental implants are required.
Clearly there's room for improvement. That's why Biolase Technology and Waterlase Dentists have teamed up to offer Waterlase Root Canal Therapy, the first advanced laser technology root canal disinfection approved by the US Food & Drug Administration.
A root canal is a treatment used to eliminate infection and save a tooth that is painful, badly decayed and infected. During a root canal procedure, the nerve and pulp is removed and the inside of the tooth is cleaned, disinfected and sealed.
With Waterlase Dentistry™ Root Canal Therapy endodontists (dentists who specialize in performing root canals) and general dentists can perform root canal procedures faster and more effectively than with conventional treatment methods.
Proven by ADA Published University Research
Articles in the Journal of the American Dental Association and other prestigious dental journals are proof that Waterlase Dentistry root canal treatment is better. A research team from at Temple University, led by Dr. Roy Stevens, Professor and Chairman of the Department of Endodontology at Temple's Kornberg School of Dentistry, demonstrated that the powerful Waterlase Dentistry laser light can significantly reduce the level of infection in the root canal and adjacent infected dentin by up to 99.7 percent.
"The effectiveness of this treatment lends itself to improving the way that we perform root canal therapy," Dr. Stevens said, adding that the results of the team's research were of "great significance" for several reasons.
"First, these bacteria are known to be highly resistant to other disinfection currently used in root canal therapy," Dr. Stevens said. "Second, the research demonstrates that the disinfection capability of the laser is effective at a distance into the dentin surrounding the canal, overcoming some accessibility problems for conventional treatment methods. Third, a high level of disinfection can be achieved in minutes, saving both the patient and dentist considerable time during endodontic treatment."
A key element of the laser therapy is that the disinfection procedure can be done quickly, in two to three minutes, compared to the 20-30 minutes required in traditional chemical treatments using sodium hypochlorite (bleach) that have been performed since the 1920s.