Insuring Your Safety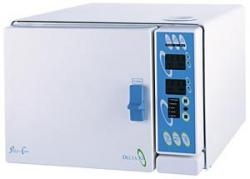 Ongoing Sertilization To Insure Your Safety
Each instrument used for treatment in our office is sterilized. Every item has been carefully pre-cleaned, dried, packaged and treated in an autoclave at 275 degrees with 88.6 PSI for 30 minutes or more. Hand pieces are sprayed with disinfectant and are sterilized in a cassette autoclave.
Your Operatory Has Been Prepared Just For You.
Every touchable surface has been pre-cleaned, sprayed and wiped down with hospital level disinfectant in accordance with OSHA and CDC (Center for Disease Control) specifications, eliminating any chance of cross-contamination.
This office has completed a thorough training program designed to assure compliance with the requirements of OSHA's regulations on infection and hazard control.